Configurator
The Configurator makes it easy to manage all applications from one central location. You set your media files, backgrounds, data fields, etc.
All your creations are manageable from one app!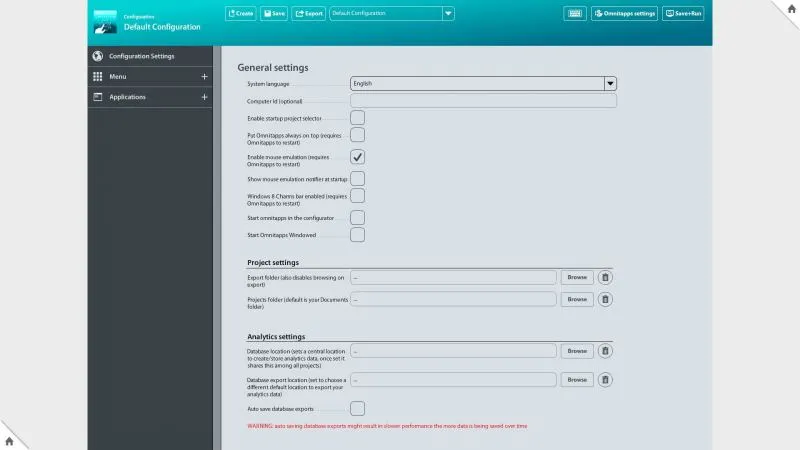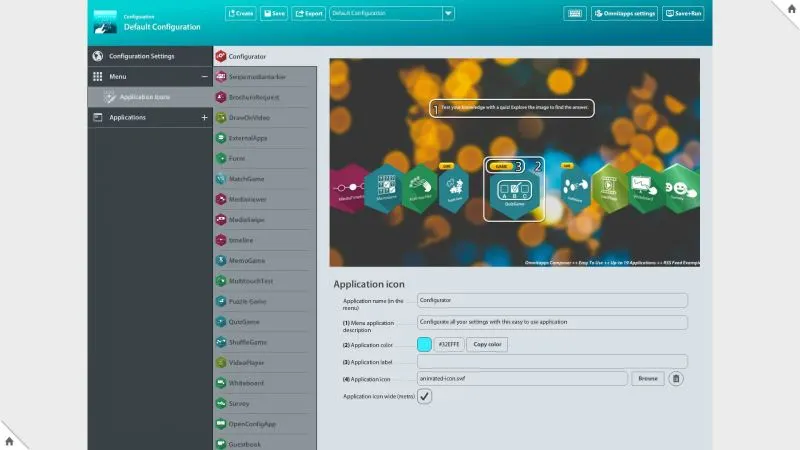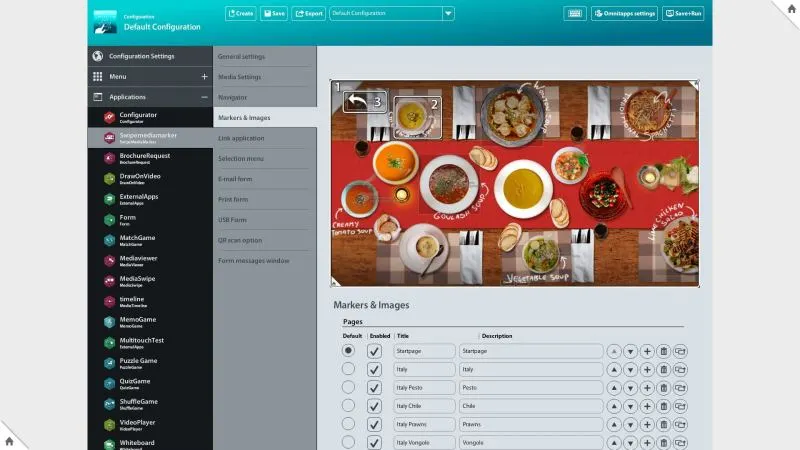 Features of the configurator
Settings: In the configurator, every application can be customized.
General: Extra settings that affect Omnitapps in general, like enabling and disabling applications or adjusting the screen position (portrait, landscape or table).
Saving: Every setting can be adjusted and saved by tapping the "save" button. Besides manually saving, switching to a different application in the menu on the left also automatically saves your last customized settings. This prevents unnecessary loss of data.
Export: If you would like to reuse your own configuration, you can export it to be used once again. Links to content or folders outside the Omnitapps folder in your My Documents are only useable on the same system. Content outside your current configuration folder in My Documents/Omnitapps will not be exported.
Configurations: Every available configuration is selectable from the dropdown in the top menu. This makes it easy to switch from configurations.
Forms: Every form has a standard set of customizable settings. Form fields can be added, removed and customized to fit your every need; you can also order the fields by moving fields up and down using the appropriate buttons. There are four field types to choose from, namely text, dropdown, checkbox and radio buttons; each has its own settings.
Custom names: Application names can be changed; each application has its own field in the configurator.
Always on top: This function forces the application to be not minimizable.
Forms
Enable/disable a form for each app if necessary
Title text
Title font colour
Title font size
Background colour
Spacing around form fields
Width
Field width
Field title width
Vertical spacing between fields
Enable terms and conditions
Terms and conditions title text
Terms and conditions content text
Field title font colour
Field title font size
Field font colour
Field font size
Form fields
Field type (INPUT, DROPDOWN, RADIOBUTTON, CHECKBOX)
Title text
Required field
Validation options, only available with the INPUT type
Amount of lines, only available with the INPUT type
Maximum amount of characters, only available with the INPUT type
Minimum amount of characters, only available with the INPUT type
Organize items, only available with the CHECKBOX, RADIOBUTTON, DROPDOWN types
Check out all 24 applications