Interactive wayfinding for Easyfairs
Kurt Poelmans, owner of FingerPrints, primarily focuses on graphic design and regularly works with Prestop and Omnitapps in realising Belgian clients' wishes. So too EasyFairs'.
Point at issue
"EasyFairs is keen to be in step with the latest technology, and as such was really interested in the options the Wayfinding app had to offer in conjunction with interactive maps", says Kurt.


Wayfinding for trade show
Kurt: "EasyFairs discovered us when we exhibited Prestop products at the Sign2Com trade show in Belgium."
"Kiosks are positioned on the trade show floor. These kiosks are equipped with Omnitapps Wayfinding software, with an interactive trade show map. Kurt surmises, "as we've now worked for two years with EasyFairs on these projects, I think it's safe to say the users are satisfied every time". "The process takes around two months. We try to stick to this time frame with FingerPrints, as we also need the scope every time round to create the interactive maps."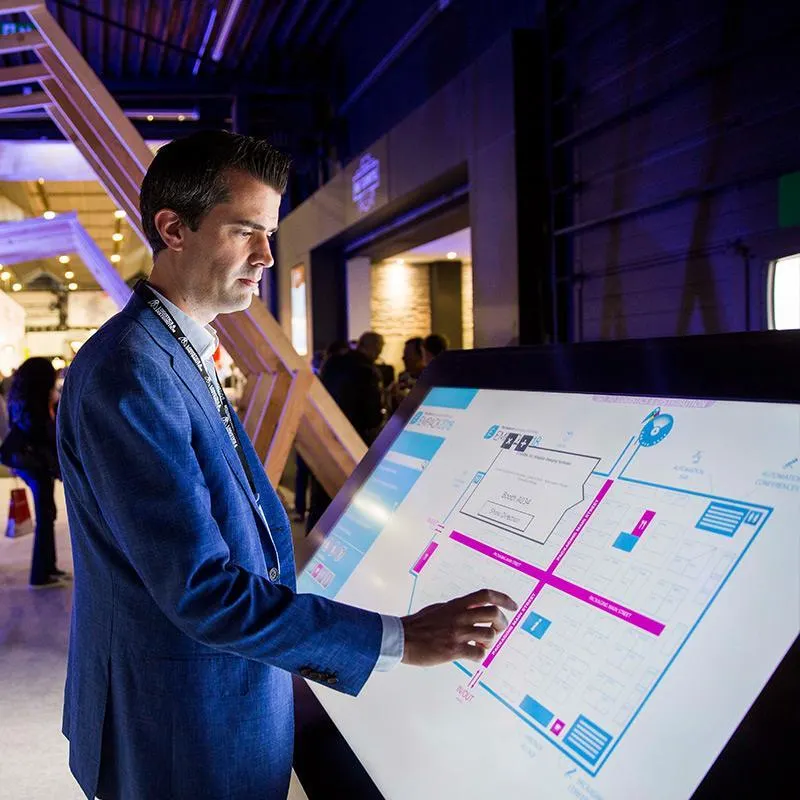 Omnitapps' solution
We presented EasyFairs with both a hardware and software solution. We wanted to ensure they could create the interactive maps themselves with Omnitapps Wayfinding if they wished to do so and had the time to do so." Ultimately they opted to hire the wayfinding kiosks, including the interactive maps, which Prestop made with Omnitapps Wayfinding. Each time the requirements are passed on to Prestop via FingerPrints. Kurt: "They ensured these were correctly delivered to the trade show floor every time." Nowadays, they make interactive maps with Omnitapps Wayfinding themselves.
"We love working with Prestop and Omnitapps. We relish the no-nonsense approach that is an integral part of working with a Dutch company. In light of the fact they have the biggest range of touch products in Europe - along with in-house production - we know we can ask the craziest questions and that without a doubt they'll always be able to provide us with a solution. I hope to carry on collaborating with Prestop for a long time, at least until we've conquered Belgium together."
Kurt Poelmans - FingerPrints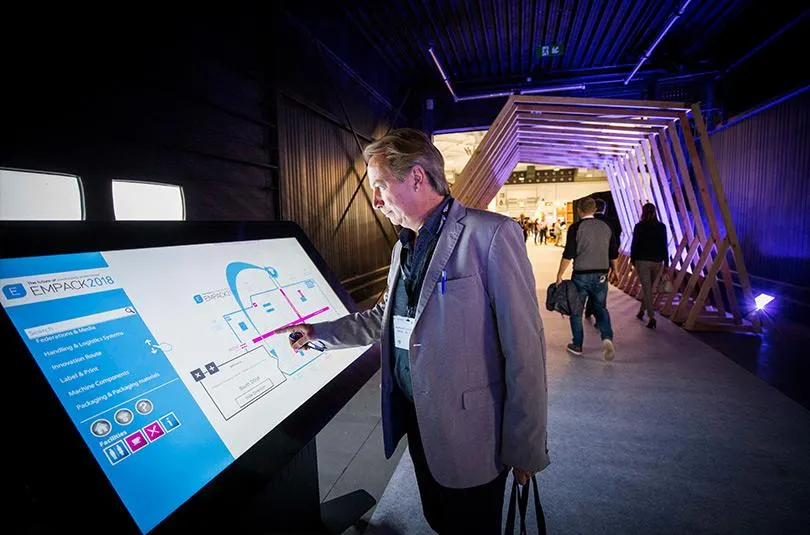 Omnitapps Wayfinding for Easyfairs
Screenshot Easyfairs Wayfinding app